| | |
| --- | --- |
| | |
In this mailing:
by Shoshana Bryen • August 11, 2014 at 5:00 am
Israel provides or makes possible the Palestinian social service budget, and leaves Hamas and Fatah to steal and/or divert resources to personal or military ends.

But does Palestinian poverty obligate Israel to provide aid to Hamas and Fatah governments? Warfare against Israel is the best predictor of Palestinian economic difficulty. The best aid is a job.

Hamas remains in open war with the people best able to employ its people -- Israel. War has consequences. The "shift in opportunities" will come…when Hamas makes a shift in its priorities -- and if it can't or wont, the people of Gaza will continue to suffer at the hands of their own leaders.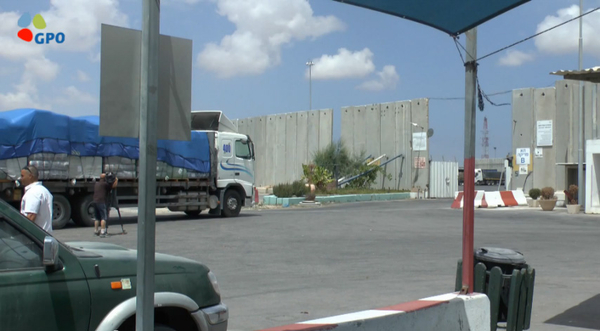 A truck laden with goods drives from Israel to Gaza via the Kerem Shalom crossing, August 2014. (Image source: Israel Government Press Office)
As Hamas resumed rocketing Israel on Friday, one surety was that Israel's office of "Coordination of Government Activities in the Territories (West Bank and Gaza Strip)" [COGAT] would continue operating as it has through gruesome acts of terror against Jews, "intifadas," rocket attacks and kidnappings through tunnels. COGAT is the facilitator of international aid to the Palestinians for UNRWA, the Red Cross and the World Food Program among others; it is also the liaison for the Palestinians to services provided by Israel, including the provision of electricity, water and sewage services, and all transit between Israel and the Gaza Strip.
Continue Reading Article